Prof. Marschner Research Interests
Metallated Silanes
The chemistry of polysilylanions was the work-horse of the last few years in our chemistry. The method of generating anionic charges on silicon using nucleophilic attack with potassium alkoxides is still a very powerful method to generate silyl anions, but it also provides a very simple access to other metal silyls such as silylmagnesium and -zinc compounds.

Also transition metal silyl compounds can easily obtained. Early metals are especially suited to undergo this metathesis reaction.

The reasons for the study of silicon transition metal compounds are investigations directed toward σ-bond metathesis and cross-coupling chemistry of organosilanes to form silicon carbon bonds.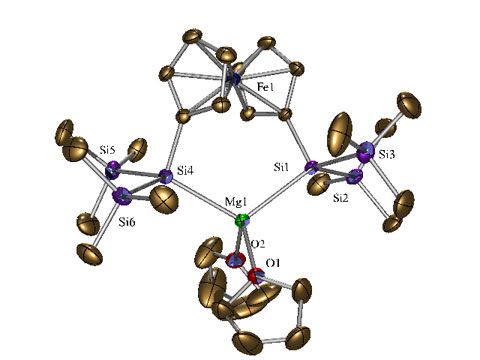 Functional Silanes
The incorporation of functional groups into polysilanes changes their physical and chemical properties profoundly. The introduction of amino- or alkoxy groups into polysilylanions leads to the formation of ambiphilic species which can undergo self-condensation.

Functional groups on polymers can change the physical properties and also lead to opportunities for further functionalization.
Molecular Substructures of the Silicon Crystal Lattice
The polysilylanion chemistry has provided us with the opportunity to prepare compounds consisting of exactly defined structures. In these molecules conformational properties and thus the UV-absorption characteristics can be controlled.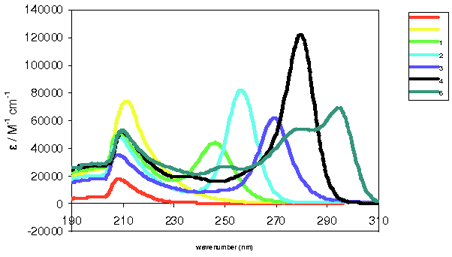 Structures, conformational behavior and physical properties (UV-absorption, photoluminescence) of chains with up to 20 or 30 silicon atoms are studied. In addition photochemical and other rearrangement reactions are investigated.

One of our goals is to generate small particles of silicon coated with an organic surface. Trimethylsilyl groups on the particle rim provide the opportunity to do activation via the treatment with potassium alkoxides. In this connection we have recently prepared the first example of a polysilane with an adamantane structure. The adamantane structural unit is the building block for the diamond lattice. In this sense is the polysilane adamantane a small substructure of the silicon crystal lattice.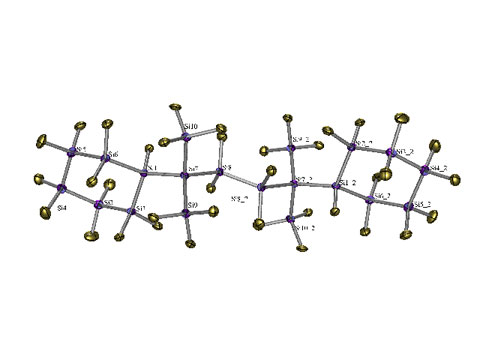 Novel Organogermanium Chemistry
Despite its chemical similarity to silicon the chemistry of germanium is clearly not as developed. One part of our research deals with the synthesis and properties of silylated germanes and also of compounds containg germanium as the sole heavy group 14 element.

Our interest in this area was particularly stimaulated by the fact that germanium shows a very distinctivy behaviour in Lewis catalyzed rearrangement reactions of silylgermanes.

Molecular Precursors for Nanowires
For the synthesis of nano-particles such as wires, cables or tubes it is important to start from suitable molecular precursors. If a certain composition is required the used of single source precursors is often advantageous. Utilizing this strategy nano-wires with core-shell architectures can be obtained from silylgermanium compounds.

Polysilanes in Organic Synthesis
One of the recently started projects deals with the application of small polysilanes in organic synthesis. One aspect which is currently under investigation is the cyclo-addition of transient disilenes (equivalent to singlet oxygen addition) to unsaturated organic compounds. The introduction of polysilyl moieties into organic molecules can be seen as masked functionality which is released via Fleming-Tamao oxidation chemistry. In addition the silyl group can serve as a conformational lock, precursor to an internal nucleophile, electrophile or radical source.

Novel Methods for the Formation and Manipulation of Si-Si Bonds
The repertoire for the formation of Si-Si and Si-Ge bonds comprises only a few reactions. Efforts to introduce new methods are of utmost importance. Recently we have introduced a reaction cascade for the exchange of silyl groups based on the intermediate formation of fluorosilicates.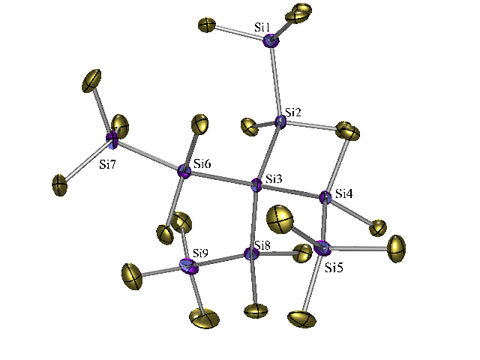 Unsaturated Group 14 Compounds
Double bonds to the higher group 14 elements are not stable. Kinetic stabilization is required to obtain stable compounds. Our silylpotassium chemistry allows an easy tuning of the steric properties of oligosilanes. This way stable disilanes can be obtained from 1,2-dianions.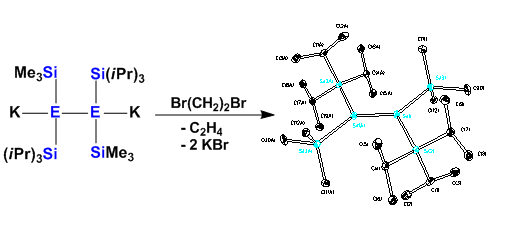 Alternatively other ways of stabilization can be employed: Recently, we have reported the first example of a fluoride adduct of a disilene which can serve as a precursor for the generation of reactive disilenes.

Also transition metal fragments can function to provide electronic stabilization of the Si-Si double bond. In this connection we have recently reported the first early metal disilene and digermene adducts.

The generation of cyclic germylenes leads to digermenes after dimerization and rearrangement.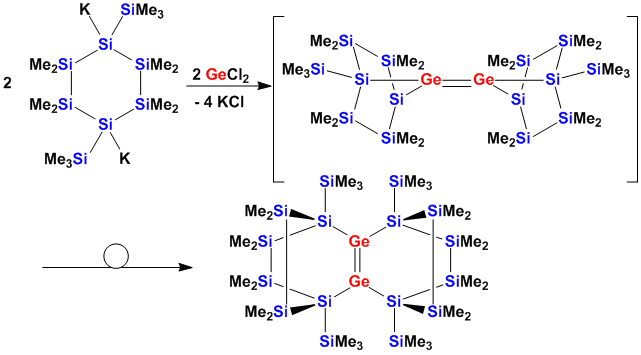 Cyclic stannylenes can either be trapped with Lewis bases or can dimerize to distannenes .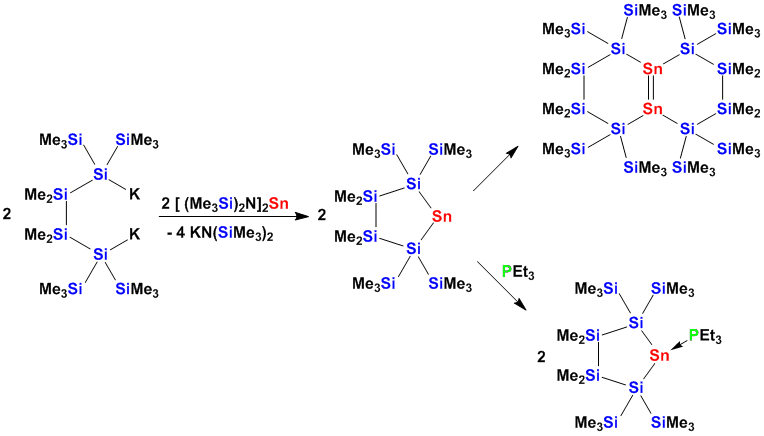 revised: 30/08/10