Dr. Baumgartner Research Interests
Organometallic and Coordination Chemistry of Oligosilylalkynes
The coordination of oligosilylalkynes to transition metal fragments via the alkyne unit brings also the oligosilanes part into the coordination sphere of the transition metal. Thus interaction of the Si-Si bond with the metal can facilitate enhanced reactivity.
Si-Si Bond Activation
Using Transition Metals Activation of Si-H and Si-Si bonds by transition metals is an important step in organosilicon chemistry. One of our projects investigates silylene transfer reagents. Currently the addition reactions of cobalt octacarbonyl derived reagents to unsaturated compounds are studied.

The obtained siliranes and silirenes are again interesting building blocks for organic synthesis.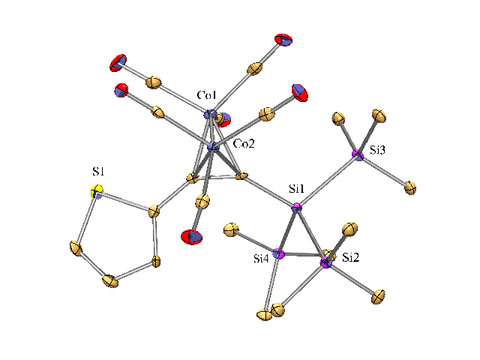 Silyl Hydroboranes
While silylboranes with heteroatom substituents are popular reagents for organic synthesis, the first example of a silylated hydroborane was only recently reported by us.

Unsaturated Group 14 Compounds
Double bonds to the higher group 14 elements are not stable. Kinetic stabilization is required to obtain stable compounds. Our silylpotassium chemistry allows an easy tuning of the steric properties of oligosilanes. This way stable disilanes can be obtained from 1,2-dianions.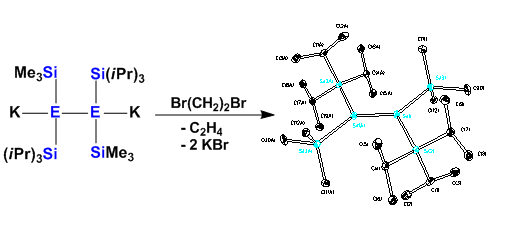 Alternatively other ways of stabilization can be employed: Recently, we have reported the first example of a fluoride adduct of a disilene which can serve as a precursor for the generation of reactive disilenes.

Also transition metal fragments can function to provide electronic stabilization of the Si-Si double bond. In this connection we have recently reported the first early metal disilene and digermene adducts.

The generation of cyclic germylenes leads to digermenes after dimerization and rearrangement.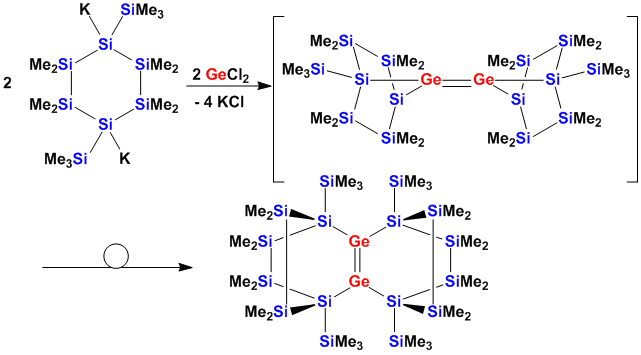 Cyclic stannylenes can either be trapped with Lewis bases or can dimerize to distannenes .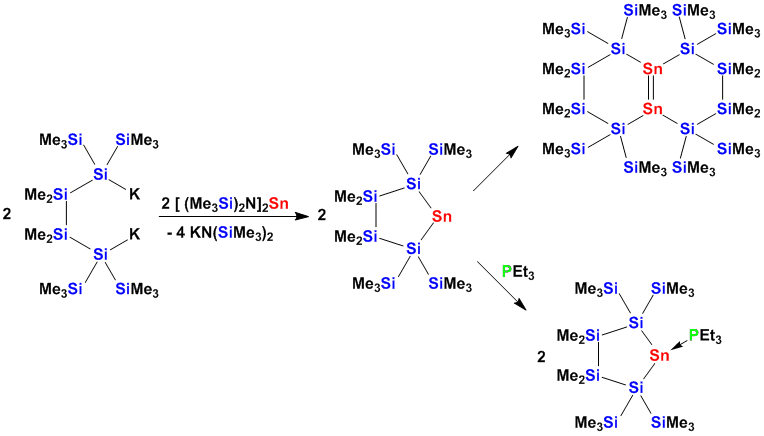 Silylated Group 4 Metallocenes in the Oxidation State +3
Despite a large number of known silylated zircono- and hafnocenes, related examples with titanium were scarce. A recent report from our group points out a strong preference of silylated titanocens for the oxidation state +3.

revised: 30/08/10